The TIM technology is the culmination of over 25 years of research and development of dynamic in vitro gastrointestinal models.
TIM technology
As part of pre-clinical research and oral product development, reliable data are necessary to predict product performance. Ultimately, product performance is directly linked to the gastrointestinal behavior of the product, i.e. the release of the active pharmaceutical ingredient (API) or nutrient from its matrix and the subsequent availability for absorption (bioaccessibility) during transit through the gastrointestinal tract. Understanding product performance and evaluation of product candidates can be done in clinical trials or animal studies. Both are expensive, time consuming and underlie ethical constraints. Contrary, a TIM system provides you with predictive in vivo information, while saving time and costs, thus de-risking subsequent clinical trials. The TIM technology is yet unparalleled in mimicking the human gastrointestinal tract and thereby is a highly predictive technology used to study the fate of orally administered drug products, i.e. pharmaceutical formulations or food products and (functional) ingredients. To drive your own R&D projects, The TIM Company and her partners deliver and install the TIM systems at your site. Additional services are available as well, i.e. TIM trainings, maintenance, consultancy and helpdesk support. To meet your business needs, the TIM systems can be purchased or are available in form of a full service leasing concept.
TIM-1
TIM-1 simulates the upper gastrointestinal tract, i.e. the stomach, duodenum, jejunum and ileum. These four compartments are physically connected, while its main parameters are computer-controlled to simulate all relevant processes for digestion. Just as for the tiny-TIMsg, settings are in place to simulate healthy human adult gastrointestinal conditions, but also the pediatric population and certain animal species.
TIM-2
TIM-2 simulates the large intestine. By using highly active and viable microbiota, the conditions of the large intestinal environment are accurately simulated. TIM-2 can be used to determine the fate of foods and drug products upon arrival in the colon and changes in microbiota composition.
Tiny-TIMsg
Tiny-TIM smartificialgut (sg), our latest addition to the TIM family, has a higher degree of automation and was developed as an easy-to-use bench top system. It consists of our in house developed advanced gastric compartment connected to the small intestinal compartment, simulating average small intestinal conditions.
Similar to TIM-1, it allows to study the release and availability for absorption (i.e. bioaccessibility) of oral drug products or foods, for measuring protein quality, or to observe formulations and compositions under simulated infant and/or adult conditions.
The next step in gastro-intestinal research
Our other
portfolio pages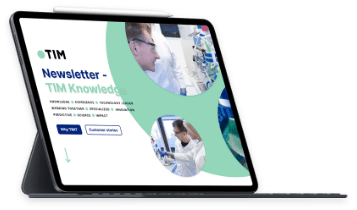 Learn more!
Subscribe to

TIM knowledge